The African Cassava Agronomy Initiative (ACAI) of the International Institute of Tropical Agriculture (IITA) has conducted a virtual training for extension agents in Niger and Kaduna states in Nigeria, successfully disseminating the Six Steps to Cassava Weed Management and Best Planting Practices, as well as other good agronomic practices in the face of COVID-19 hurdle while adhering to safety precautions.
The Training of Trainers (ToT) event was held via Zoom for extension agents under the National Agricultural Extension and Research Liaison Services (NAERLS) based in Ahmadu Bello University (ABU), Zaria, with support from the Alliance for Green Revolution in Africa (AGRA). The training covered the Six Steps to Cassava Weed Management and Best Planting Practices, Cassava-Maize Intercropping, and calibration of knapsack backpack sprayers for herbicide application.
Observing social distancing and other safety protocols, participants logged on to the training while gathered at various locations, which included NAERLS conference room, Zaria, Bida Zonal Office, and Kontagora in Niger State. Members of the agency's National Farmers Helpline were also in attendance.
The training, which was held on 17 June 2020, came weeks after extension agents working with ACAI's partners— the Justice Development and Peace Movement (JDPM), Oyo; and the University of Agriculture Makurdi (UAM)— resumed training activities under a cautious regime following months of COVID-19 lockdown which coincided with the start of a new farming season.
According to the training facilitator and IITA Digital Extension and Advisory Services Specialist, Godwin Atser, IITA-ACAI resorted to virtual training as part of efforts to ensure that the restrictions caused by the pandemic never hampered the dissemination of IITA-ACAI agronomic recommendations to farmers, and to avert hunger and mitigate the effects of the looming economic recession.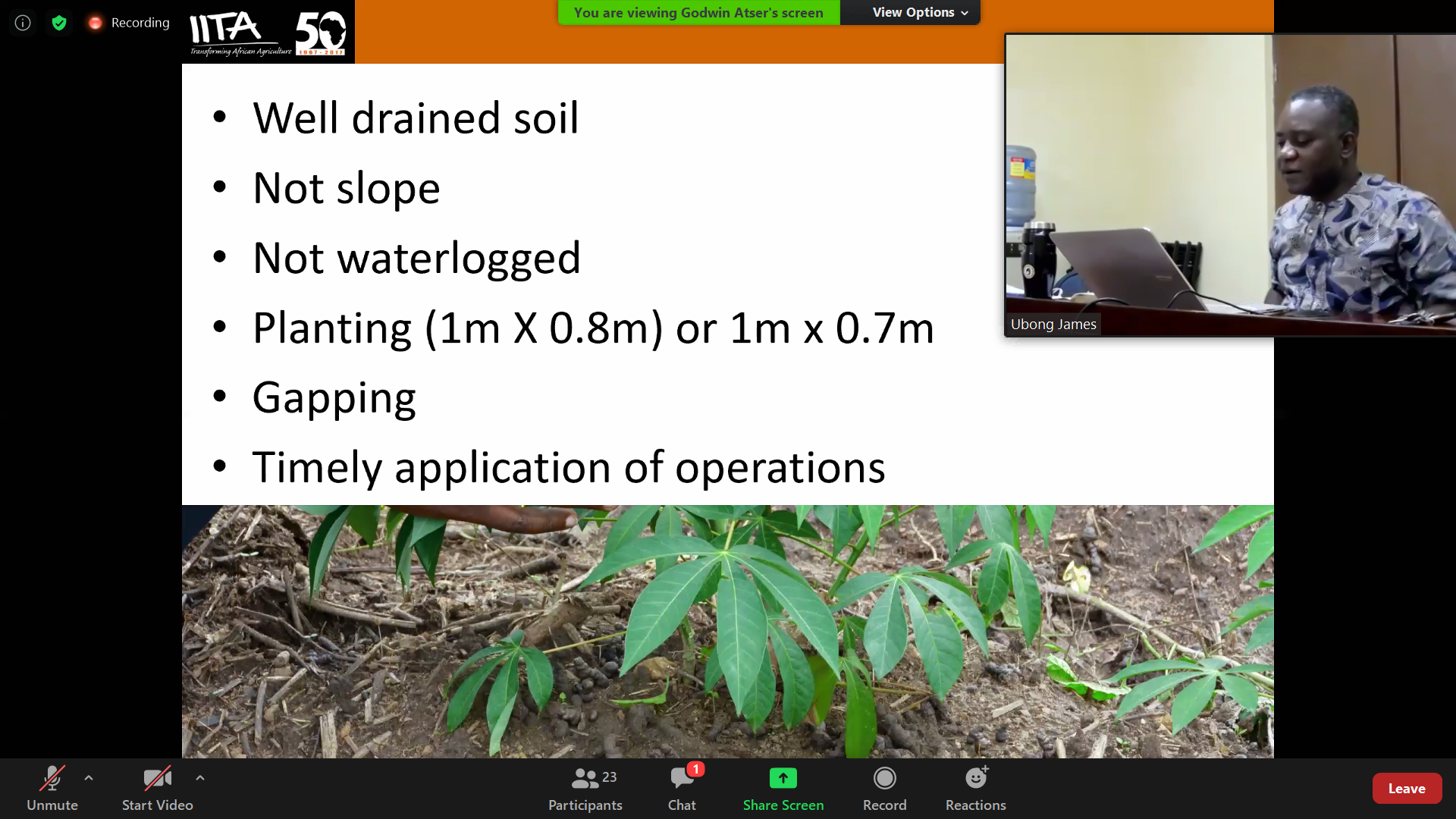 "Virtual meetings have become the new normal," Dr. Esther Ibrahim, AGRA Associate Program Officer, who spoke before the commencement of the training, said. "We should accept it as it is and make the best use of it."
In his address, the Executive Director of NAERLS, Prof. Mohammed Khalid Othman, said he was particularly excited about the  herbicide component in the training, saying: "This training is essential for farmers and extension agents because we need to know how to handle our agro-chemicals."
The online training was in two parts – a theoretical session on the Six Steps to Cassava Weed Management & Best Planting Practices; Cassava-Maize intercropping; types of weeds and herbicides; and a practical session where participants learnt how to calibrate knapsack sprayers for proper herbicide application. They were also taken to fields outside their meeting venues for practical demonstrations.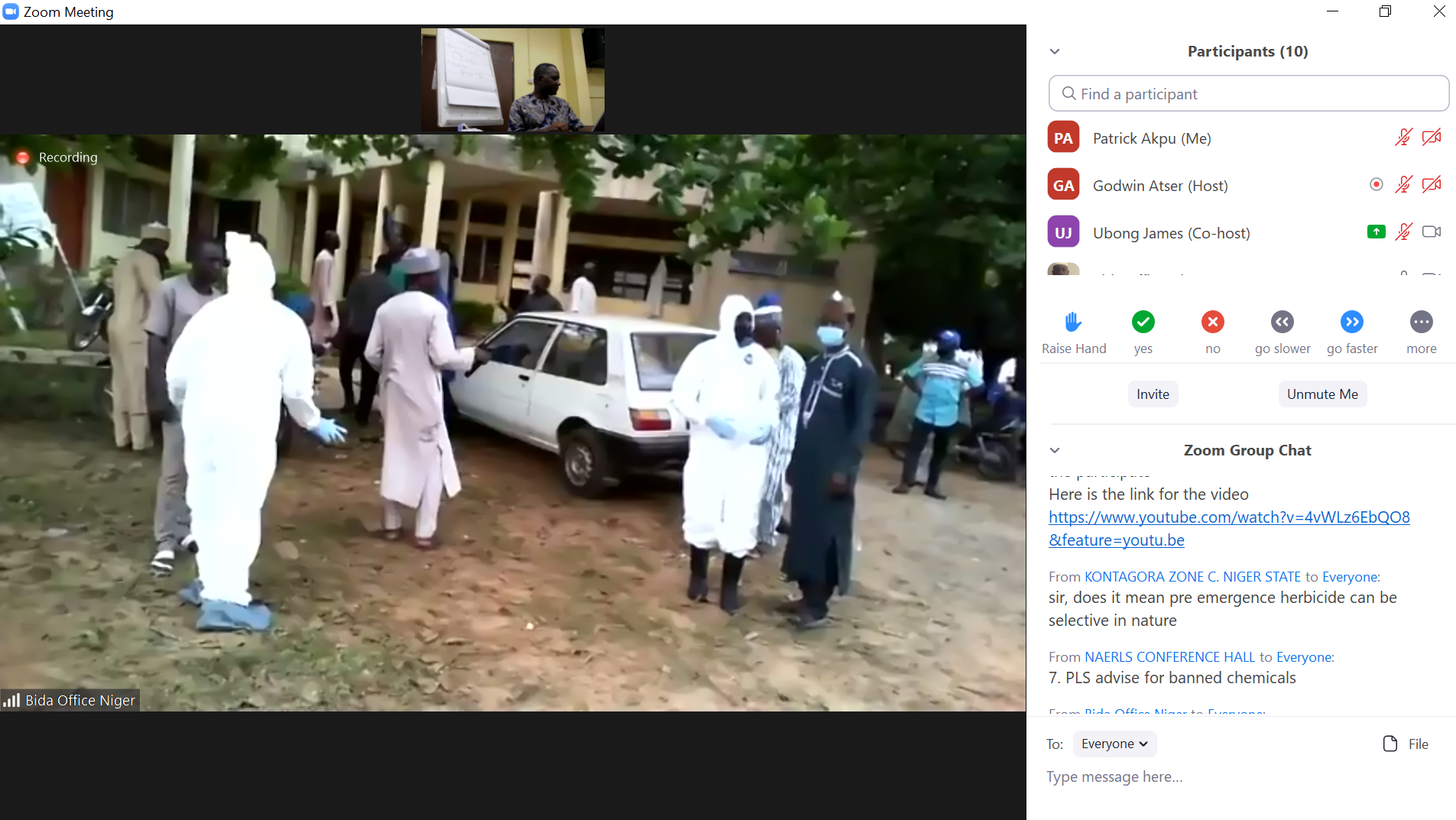 IITA Digital tools like IITA Herbicide Calculator, CassavaMatters e-market, and AKILIMO were also discussed.
NAERLS is responsible for development, collation, evaluation, and dissemination of proven agricultural innovations and to research on extension methodologies and policy. The online training was moderated by Prof. Chris Daudu, an Assistant Director of Research and the Project Manager for the Community Based Adviser model of USAID/AGRA/NAERLS.