Cassava

Weed Management Project (CWMP)

A project which was led by the International Institute of Tropical Agriculture (IITA) located in Ibadan Nigeria and funded by the Bill and Melinda Gates foundation with collaborations from the following institutions in Nigeria: Federal Ministry of Agriculture (FMARD), National Root Crops Research Institute (NRCRI), University of Agriculture Makurdi (UAM), Federal University of Agriculture Abeokuta (FUNAB), National Agency for Food and Drug Administration and Control (NAFDAC), National Environmental Standards and Regulation Enforcement Agency (NESREA), Standards Organization of Nigeria (SON), State Agricultural Development Programme (ADP), Crop Life Nigeria and other NGOs is addressing the weed menace in cassava and in intercropped maize and cassava. Chemical companies have provided samples of herbicides for testing and some applicator training which has been highly appreciated.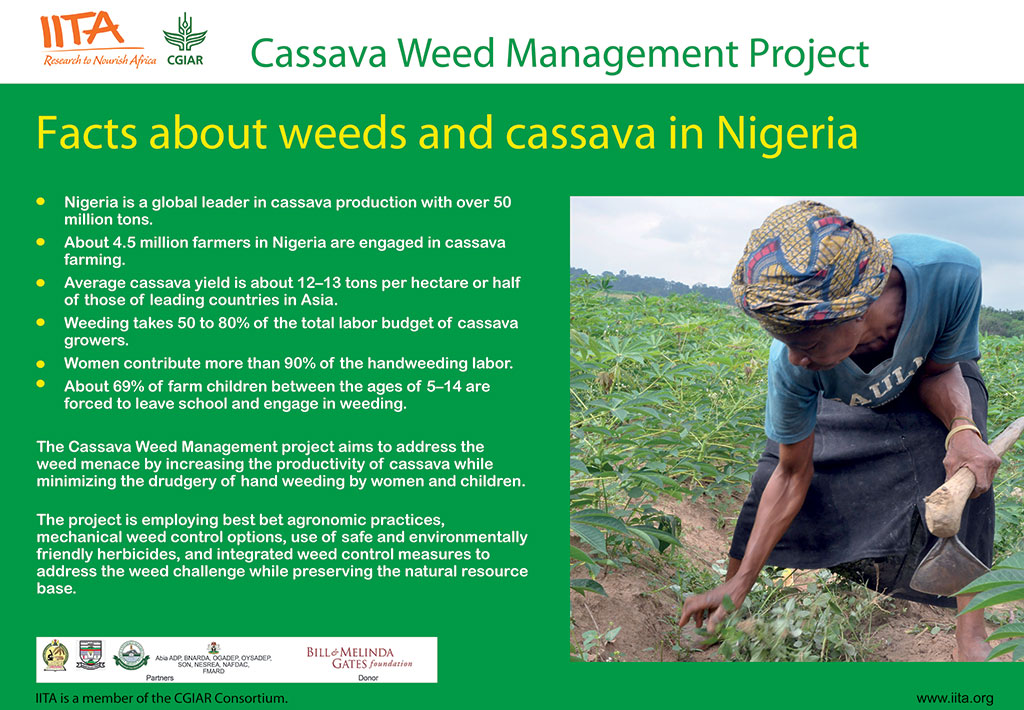 The project employed the best-bet agronomic practices, mechanical weed control options, use of safe and environmentally friendly herbicides and integrated weed control measures to address the weed control challenge while preserving the natural resource base. The IITA project major aim is to develop integrated weed management (IWM) techniques that involve the systematic screening of new potential herbicides and testing of mechanical weed management technique and includes the development of weed management techniques that result in the best fit approach for cassava farmers. Project experiments have included techniques for site preparation to reduce problem weeds (field preparation application of broadspectrum herbicides followed by field cultivation with tractors and appropriate implements), planting approaches for best crop establishment techniques (germplasm, planting density, use of ridges) that result in crop competition against weeds, use of premergence and postemergence herbicides, use of mechanical weeders and improved long handles hoes. The experiments included initial research station testing of approaches followed by on-farm farmer cooperative studies which set the stage for farmer and agriculture advisor training on weed knowledge and of proper integrated weed management approaches and especially, safe handling, storage and appropriate application of herbicides. The project aims in the long term to assist the majority of the 4.5 million cassava farmers in Nigeria and includes cooperative agreements with the Nigerian agriculture and regulatory government agencies, impacted farmer organizations, independent farmer groups, NGOs, agriculture crop advisors and chemical companies. The project is over a five year period (2014-2018). The project leaders recognize there are no 'Silver bullet' techniques to solve the weed problem but that the development of practical, affordable and profitable techniques will best address weed management in cassava.
The weed management project began in 2014 aiming to generate relevant cassava weed management options to share with cassava farmers to help them improve their cassava production.
In 2018, the Cassava Weed Management Project (CWMP) received a 2-year supplementary budget extension to join with ACAI in the dissemination of the technologies they have been developing.
The African Cassava Agronomy Initiative (ACAI) project and the Cassava Weed Management Project (CWMP) merged into a single project.
People

Reached by Cassava Weed Management Project [2014 – 2018]
The training we received has clearly shown that the future is very bright for we farmers. I really thank IITA for their tremendous effort to ensure that the average farmer is liberated from poverty!
Alhaji Salami B. Mukaila
Farmer > Awe-Oyo Town
We have practiced the recommendations and discovered it is very convenient and cost effective for farmers. My advice to all farmers is to embrace the safe use of herbicides!
Mrs Elizabeth Folashade Adeyiga
Farmer > Ilara, Remo North, Ogun State
I now know that I should plant my cassava on ridges, always use the IITA Herbicide Calculator for herbicide spraying and apply best practice in weed management in terms of how and when to apply different herbicides!
Olusola Agoro
Nigeria Farmers Forum
The conventional farmer's practice shortens the life span of the farmer... but with the new method introduced by IITA and their partners, my fellow farmers and I have seen a huge difference in terms of yield!
Prince Isiaka Akanji Durojaiye
Farmer > Yewa North, Ogun State